What Our Clients are Saying
Hi Edward,
I just wanted to thank you for all of your hard work in handling my case. I am so grateful for everything you and Megan did. I am very pleased with the outcome. Ed did an amazing job at my mediation yesterday. I will be recommending anyone that comes my way to your firm.
Thank you again!
---
---
---
---
---
---
---
Dear Mr. Edward Steinberg,
It's been a while since we last spoke, but I just wanted to thank you for allowing me to intern at your firm two summers ago. At the time, I was confused whether or not law was the field I wished to pursue; mostly due to the fact that my entire portrayal of what being a lawyer actually consisted of was entirely based on movies and television. However, interning in your office really helped give me a more complete and accurate picture of what the career entails. Consequently, I decided to pursue my goal of becoming a lawyer.
About two months ago, I was admitted to NYU School of Law, and I can state with certainty that interning at your firm really helped to bolster my resume and application. I really appreciate all your help and wish you all the best.
Sincerely,
---
Thank You for all the time spent and please give my best to Ed. You all did a wonderful job. Every one of the staff was very professional and handled all situations with kindness.
With best wishes
---
---
---
---
---
---
---
---
---
---
---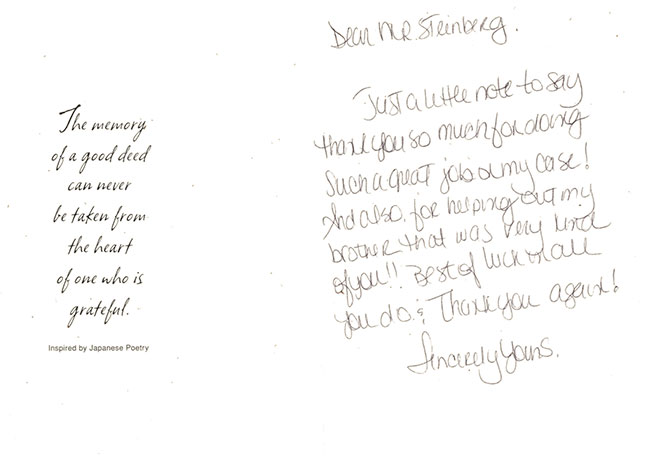 ---